About a year ago, I noticed a common theme with some of my Pinterest pins on my kitchen board. Many of them were labeled deVOL. At the time, I had never heard of deVOL, so I decided to do some research.
deVOL is a U.K.-based company that has been around since 1989. They design and build bespoke kitchens and bathrooms, and their specialty is English Shaker style cabinetry.
They make the most beautiful kitchens. I love the simple spare style of their cabinetry that gives a historical nod to English country kitchens while still maintaining a clean modern aesthetic. When I look at their kitchens, here are some of the things I notice that could be applied to any kitchen design:
-Cabinets are always Shaker-style.
-Cabinet doors and drawers are inset in cabinet frames. This type of cabinetry is usually custom built rather than pre-fab. It can be a challenge in areas with big humidity changes throughout the year because cabinet doors and drawers can stick if they swell with moisture.
-Cabinetry is painted in a palette of simple historic or nature-inspired colors.
-Full height pantry cabinetry is featured in one corner of the kitchen.
-Cabinetry is designed to feature windows and natural light to foster an open feeling.  Upper cabinets have glass doors.  They may be replaced with floating shelving or totally absent altogether.
-Beadboard, also called tongue and groove paneling is often used.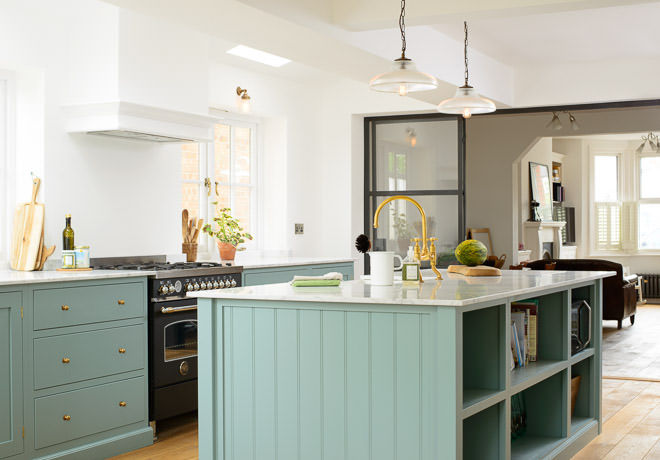 -Knobs, pulls, and latches are simple and yet functional. Hardware is often matte, rather than shiny.
-Metallic finishes may be mixed for a more collected look.  Brass faucet with aged bronze knobs, for example.
-Backsplash is visually simple or absent.
-Range hoods are simple and custom, rather than shiny and elaborate.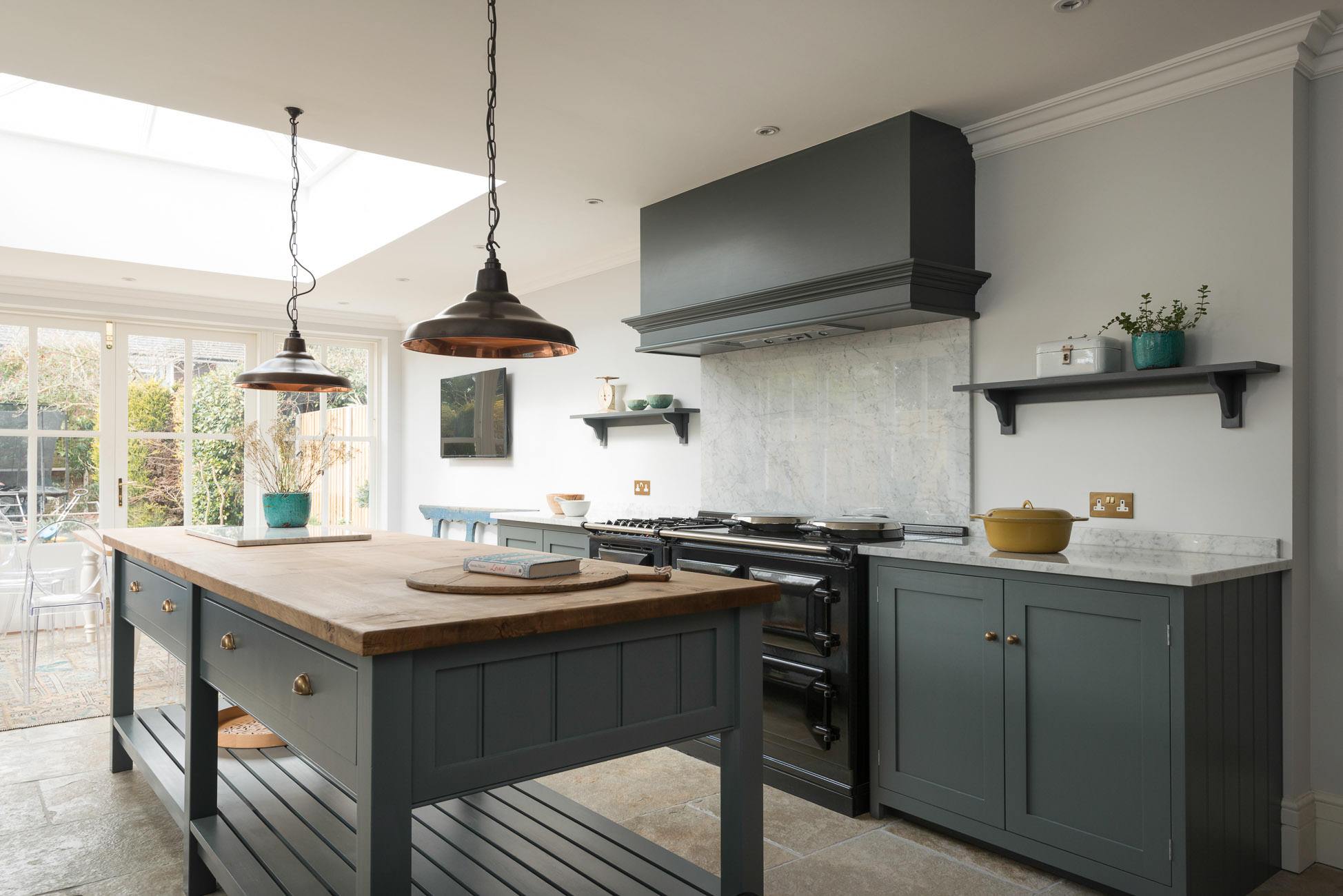 -Farmhouse sinks are often used.
-Peg rails are seen in many deVOL kitchens.
-Architectural features are highlighted such as vaulted ceilings, beamed ceilings, and skylights.
The overall feeling you are left with when you look at a deVOL kitchen is calm and tranquility. The simple bespoke designs and details allow craftsmanship to really shine. If I was designing a new kitchen, I would certainly use deVOL as design inspiration. Check out their website, Instagram feed and Pinterest page for more images.
Save